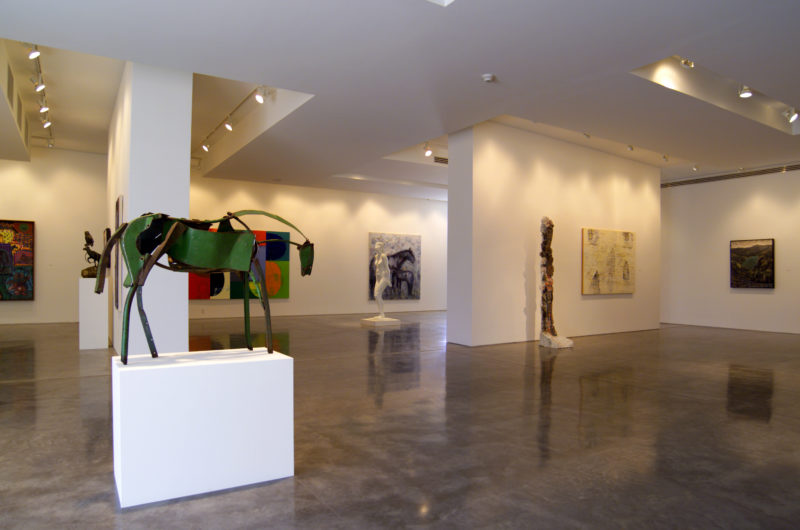 This is an easy one: Scientists have determined that the exact amount of time one should look at a work of art in order to understand it is four minutes and eight seconds.
Just kidding. Like almost every question asked in this series, the answer is highly subjective and dependent on the work of art, as well as how well-versed one is in parsing visual images. But it is safe to say that, generally speaking, we're not looking at works of art for long enough. The exact numbers vary, but studies have determined that the average time a person spends gandering at a piece in a museum is between 15 seconds and 30 seconds. That's plenty of time to figure out what the image is attempting to represent (or not, if you're looking at abstraction). But that's not nearly enough time to fully experience the work.
James O. Pawelski, the director of education at the University of Pennsylvania's Positive Psychology Center, compared the way in which most people walk through a museum to the experience of strolling through library stacks. "When you go to the library," he told the New York Times, "you don't walk along the shelves looking at the spines of the books and on your way out tweet to your friends, 'I read 100 books today!'" The contention here is that people can go to a museum, spend hours there looking at hundreds of works, and walk out not really having seen anything. When he was teaching, Pawelski would take students to Philadelphia's Barnes Foundation and ask them to spend 20 minutes in front of one single work. The resulting contemplation, he claimed, not only enhances one's appreciation of art, but can also have the same beneficial effects as meditation.
Studying an artwork for an extended period of time instead of doing other stuff (20 minutes is almost a full Seinfeld episode) is clearly an important part of understanding what lurks inside it. Art history students who are tasked with such close readings know how much a painting can hold within the frame. But it shouldn't be taken as a given that this is common knowledge. "People in the art world generally know how powerful it can be to look at a work of art for more than seven seconds," said Phil Terry, who founded Slow Art Day, an initiative that asks people to really pause and examine the works we find in museums. "I started Slow Art Day because everyone else doesn't know this," he added.
If the benefits of long-looking are taken for granted by those in the arts, it shouldn't come as a surprise that Terry doesn't come from such a background. One day in 2008, on a trip to New York's Jewish Museum, he decided on a whim to spend a full hour looking at Hans Hofmann's painting Fantasia (1943). "It was a mind-blowing experience," he said. "It totally shocked me how good it was and how much I saw." The exhaustion that comes from trying to absorb every work in a massive museum retrospective? Nowhere to be found. "I thought I could leap tall buildings I was so excited," Terry told me.
He founded Slow Art Day that year, and programming began the following year. Major institutions like SFMOMA and smaller museums like the Birmingham Museum of Art have embraced the idea, with the latter even offering regular Slow Art Sundays. Slow Art Day is entirely a volunteer operation, and if you're looking to participate in the next one, it's coming up in April.
To read more from Artsy, click here.
To vista Stremmel Gallery's Artsy page, click here.